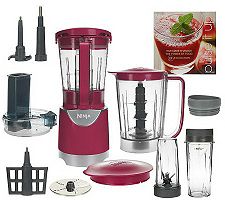 $109.92
Ninja Kitchen System Pulse 48oz Blender w/ Slicer&Shredder
Imagine what you'll make with this versatile Ninja System Pulse. Powerfully equipped with a 700W motor and loads of accessories, it performs the duties of a blender, juicer, food processor, mixer, and more, saving you both time and counter space. You'll find it an awesome addition to your kitchen–and inspiring for your healthy lifestyle. Put the power in the palm of your hand. Ninja Pulse Technology lets you control the consistency, evenly processing and blending ingredients every time. Making shakes, smoothies, and frozen drinks? Its six-blade, 48-oz pitcher pulverizes and purees whole fruits and vegetables and ice to perfection. And, if you just need to make single servings, the blending cups are sized right to meet your needs. For food processing tasks, turn to the 40-oz bowl. With Quad Blade Technology and the included attachment for shredding and slicing, it makes easy work of preparing salsa, chopping vegetables, shredding cheese, and more. Feeling even more adventurous? Turn to the handy attachments for all kinds of fun. There's a cookie dough paddle for making cookie dough, scones, dessert bars, and batters, plus a dough blade for kneading pie crusts, pizza dough, bread dough–you name it. There's even a cookbook with over 150 recipes to motivate you. With a variety of colors to suit your decor, this multitasking powerhouse looks right at home in your kitchen. Keep it out and show off your skills! It makes mixing things up in the kitchen easier and more fun than ever. From Ninja.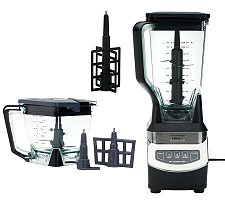 $119.85
Ninja Kitchen System 1100 Watt 72 oz Blender w/40 oz Bowl

Master the fine art of blending. With the perfect balance of speed and power, this blender crushes ice into snow, turns fruit and veggies into delicious smoothies, and mixes ice cream into milkshakes. Your favorite summer beverages are just a button push away! But it doesn't stop there. With the included dough hook and paddle, it can easily knead dough into pizza crust or homemade bread to satisfy your hungry crowd. From Ninja.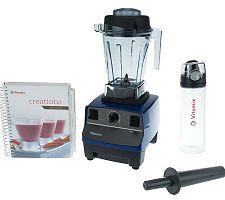 $399.00 Free Standard S&H

Vitamix Creations II 48 oz. 12-in-1 Variable Speed Blender
Bring the serious power of professional blending into your home with the Vitamix Creations II blender. Designed to fit under most standard countertops, it offers a 48-oz capacity blending jar and adjustable speeds–so you can be juicing, chopping, and blending like a pro in no time! There's also a tamper that helps you blend dense ingredients and even make thick, creamy ice cream! And with the included hardcover cookbook, you'll have 300 recipes to get a jump-start!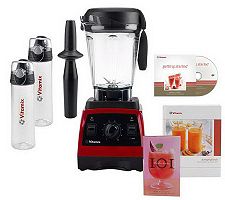 $529.00 Free Standard S&H

Vitamix 7500 12-in-1 64 oz. Under Cabinet Blender
Bigger just got better. Put professional-style power and performance on your countertop with the new Vitamix 7500 blender. A re-designed 64-oz container now lets you fit this full-size Vitamix under any standard 18″ cabinet. And with an outstanding seven-year limited manufacturer's warranty–now's the time to discover why hundreds of QVC customers have written 5-Star reviews praising their Vitamix blenders! Live simply, live fresh. From daily meal preparation to soups, smoothies, desserts and beachy drinks–the Vitamix 7500 does it all! Using the 64-oz container, this incredibly versatile 12-in-one machine replaces your blender, juicer, smoothie maker, food processor, hand mixer, ice cream maker, meat grinder, coffee grinder, and more. The true foodie's favorite. The Vitamix brand is relied on for its power, quality, and durability to meet the demanding standards of top chefs, cooking schools, and restaurants around the world. And the 7500 is no exception–with a variable-speed 2.2HP motor that spins blade from 11mph up to 240mph, this workhorse has the control needed to make delicate whip cream and the power to pulverize whole foods including their skin, seeds, pith, leaves, and fiber quickly and easily. Can't decide what to make first? No worries! You also receive the Simply Fresh cookbook with over 200 delicious recipes, the 101 Blender Drinks book for smoothies and cocktails galore, and an instructional DVD to help you get started. Plus, there's two 22-oz travel smoothie bottles for taking your health drinks to go. Counter intuitive. Available in a wide array of fashion colors to match your kitchen decor, there's no need to put your Vitamix 7500 blender away in a cabinet. Keep it on your counter for everyday use. And you will want to use this versatile and convenient machine each and every day! From Vitamix.